Our Partner Suppliers
CTD Architectural Tiles are proud to have long-standing formal partnering agreements with some of the finest and most innovation tile manufacturers in the world, as well as agreements with manufacturers of associated tiling products.
Our partners in this category include Weber and Mapei (adhesives, screeds and grouts), Schluter (profiles, underfloor heating and decoupling matting), Wedi (backer board and substate products), Rubi (tools) and Fila (cleaners and sealers).
Allied to this global position is our local focus on strong relationships with those UK based businesses with whom we have a long-standing association. This includes Johnson Tiles, BAL, Ardex and Genesis.
This extensive supply chain gives us an unparalleled product sourcing and technical support capability. Below are some of our partners:
---
EPD Accredited Supplier
Arcana is a Spanish manufacturer, founded in 1997 with a particular focus on serving international markets. Thanks to consistent investment in the most innovative production techniques supported by a highly qualified team, Arcana is able to provide products that consistently progress the design, format and finishes of its ceramic products. Arcana is also a supplier wedded to its corporate social responsibility being deeply committed to providing the best technical quality in order to satisfy the most demanding needs of the specification market.
EPD Accredited Supplier
Argenta is one of the youngest, but also largest Spanish manufacturers. Made up of a young and dynamic team that researches the current market and satisfies its needs with technical and aesthetic solutions, Argenta supports CTDA with a new generation of a high added value product. In its 20 years of life, Argenta is one of the leaders in the Spanish ceramic industry with more than 30 millions of sqm per year, divided into a great array of products ranging from the most classical to the most avant-garde ones. The Argenta range incorporates everyday sizes as 60x30 through to 260x120 slab formats.
"Only 20 years old, Argenta has grown rapidly to become one of the leading Spanish manufacturers typified by a dynamism and "can do" customer attitude coupled with an exciting new product introduction policy and best in class marketing, the spirit of Argenta is captured in its strapline "Friendly Tile". Argenta offers the market a full range of products with a solution for every type of project. Key amongst which is its innovative "Kursaal" range with its R11C/+36PTV slip resistance rating whilst retaining a non-aggressive finish, the perfect combination of design ambition and technical performance. Santiago Llorens from Argenta says "CTD Group have been a long-standing customer for me personally and I was delighted to be able to introduce Argenta to the Group. Ranges like Kursaal are perfect for the specification market and it is really pleasing to see CTD Architectural Tiles commit to this range in the way they have. We are just scratching the surface of what can be achieved together and the future looks and feels bright for the CTDA/Argenta partnership"
Cevica is a family run artisanal manufacturer based in Spain. They specialise in small formats and bespoke manufacture, using a combination of traditional and modern production techniques to offer the specifier a bespoke project solution. As a family business, it is now the second generation that continues the good work of Cevica, always faithful to the principles of honesty, effort and quality in everything they offer to their customers.
Whilst part of the Italian Ricchetti Group of companies, Cinca is a manufacturer steeped in Portuguese history, having been established more than 50 years ago as a specialist mosaic fabricator. Over the decades Cinca has grown into a complete manufacturer, offering mosaics, ceramics wall tiles and porcelain floor tiles into the market.
EPD Accredited Supplier
The partnership between Iris Ceramica and Diesel Living has created new floor and wall tiling solutions inspired by the industrial and metropolitan world, for truly eye-catching projects. Different and opposing patterns such as cement or visually delicate surfaces move together in a unique design concept. The Diesel Living ranges will leave no-one indifferent.
Established for over 30 years Estudio Ceramico are experts in small format pieces typified by the adoption of glaze technology to drive design or innovations in decoration that elevate tiles into unique statements for both walls and floors. Previously a specialist decoration producer for other factories, their products and team are now available to the specifier directly through CTD Architectural Tiles. The Estudio products are especially popular in hospitality projects such as bars and restaurants.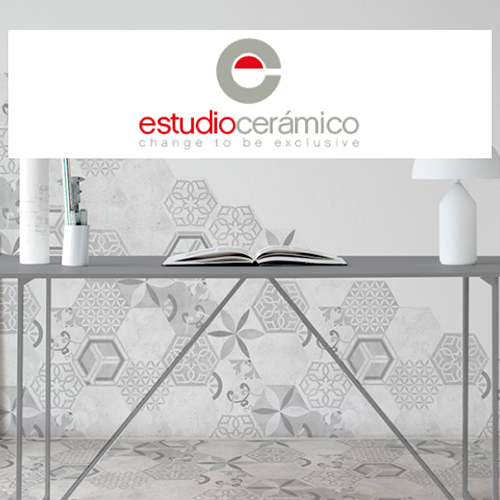 Exagres was founded in the early 1970s in Spain as a specialist producer of extruded porcelain, a manufacturing process whereby wet clay is forced through a mould to be shaped rather than the clay being turned into dust and then pressed into the required shape. This process allows Exagres to generate special formats, large and small trims, through body colours, and varied structures. It is a system which lends itself naturally to swimming pool and step edge tiles. The long experience and specialism of Exagres in this market sets it apart, with over 40 years of technological innovation, knowledge and understanding of the swimming pool market CTD Architectural Tiles are proud to partner with Exagres.
GEMINI ceramic wall and floor tile collection forms part of the CTD Tiles product portfolio, with extensive collections individually handpicked and designed to appeal to every style imaginable. Taking inspiration from both traditional styles and the very latest trends captivating the interiors world, GEMINI's vast range explores beautiful natural stone tiles alongside textured décors, elegant mosaics and both classic and contemporary styles.
EPD Accredited Supplier
Love Tiles, formerly known as Novagres, came into the world of tiling in 2008. Love tiles is a part of The Panaria Group, one of the leading Italian groups in the production and marketing of ceramic materials for paving and coatings. worldwide, they have a diverse range of production units spread across Italy, Portugal and America. the Love Tiles has a diverse range of ceramic tiles which have been used in a wide range of projects including Apartment blocks, Retirement Homes, Hotels, and Restaurants.
Love Tiles pride themselves on a commitment to the environment by minimising the environmental impact of its activity, through research and implementation of eco-sustainability in all aspects of the working environment, on the materials used and in the production processes, shown clearly through their expansive selection of environmental certifications.
EPD Accredited Supplier
Marazzi is a leading international player in ceramic and porcelain tile manufacture. Experience and innovation capability, creativity and design, tradition and culture, a passion for ceramics and environmental awareness are the fortes of Marazzi ceramics which have been defining tiled environments since 1935, combining aesthetics and top quality materials.
"The strong and long-lasting partnership with CTDA in the UK is a clear example of how an Italian global manufacturer and local expertise are the perfect combinations to successfully meet the demands of the market and together we able to provide project solutions for both designers and architects. Our ranges are carefully selected by the CTDA team and promoted nationwide, a service which could only be provided by a highly specialized partner with a deep knowledge of the market both on a regional and national basis."
EPD Accredited Supplier
Margres is a leading brand for porcelain stoneware for both flooring and coatings. they originally started production in an industrial unit in Ílhavo in 1982. They are known as one of the first porcelain stoneware factories in the world. Margres exclusively specialises in the production of porcelain stoneware, a premium product for any type of construction, often used in both private and public spaces due to its high technical advantages. The features that make their product unique stem from Margres use of modern state-of-the art technology, high quality raw materials and a concern for aesthetic that meets the demands of contemporary architectural projects. Margres is a reference brand in the UK domestic market and is also known very well internationally.
EPD Accredited Supplier
Mosa is one of the most revered names in world tile manufacture. For over 130 years, Mosa have been manufacturing tiles using the purest materials and the magic of innovative Dutch design. By embracing the Cradle to Cradle philosophy and being committed to offering the best support, we enable our clients around the globe to create signature buildings that last. Mosa tiles enrich walls, floors, facades, and terraces of private, commercial, and public interiors and exteriors in over 50 countries across four continents. The years of experience and a rich heritage in manufacturing ceramics mean that with Mosa, timeless aesthetics meet functionality and master craftsmanship. While operating globally, local production and a regional supplier network remain at the company's heart. Today Mosa still designs, develops, and manufactures our tiles in Maastricht, where Mosa was first established in 1883. However Mosa is not a business to look to the past, but rather it keeps it eye firmly on the future, so consideration for the environment, sustainability, and the wellbeing of generations to come are vitally important. We adhere to the Cradle to Cradle philosophy. This circular approach helps us make a positive contribution to our society, our economy, and our planet. In fact, nearly our entire tile collection is Cradle to Cradle certified, ensuring Mosa plays a key role in acquiring green building labels.
Part of the Mapei Group, Mosaico+ is a world leader in the production of mosaics. Supported by an all-Italian production system that combines innovative techniques with an impressive mosaic culture and tradition, this supplier specialises in working from concept stage to produce bespoke project solutions. Designing and producing mosaics in their own unique way is the philosophy of this company. Specifiers love working with Mosaico+ in high end Spa and Leisure projects or creating bespoke blends for feature walls in luxury hotel and residential projects.
EPD Accredited Supplier
"Founded in Italy in 1949, since its inception over 60 years ago Ragno has been one of the driving forces in the growth of the Italian tile market. Now part of the world's largest flooring supplier, The Mohawk Group, it continues to lead the way in the design and manufacture of wall and floor ceramic and porcelain tiles that are suitable for any project type. With a clear focus on appealing designs and solid technical performance, Ragno chooses to work with the CTD Architectural Tile team across a wide selection of commercial and residential projects and the Ragno team are delighted to be affiliated so closely to with the CTD Architectural team, It is a great team of energetic, customer oriented sales people who we genuinely feel really close to. We are confident that our products are right for the market and equally confident that CTDA is the best team to take these to market."
EPD Accredited Supplier
One of the leading Italian producers since its foundation in 1961. Rondine has a broad and balanced product offer with a world leading specialism in wood effect and brick effect porcelain tiles. These specialisms have recently been complemented by a significant investment in production capability of 20mm thick porcelain pavers for outdoor use. Despite these clear areas of expertise, Rondine also offer more 'traditional' designs and formats providing the specifier with a one stop shop for all possible project environments where tiles could be specified.
Todagres is the leading Spanish producer of Technical Porcelain. This is a ceramic product resulting from the application of the most advanced and innovative technologies available. Todagres products are not glazed, they are coloured throughout the body of the tile and is completely vitrified. That is why it is a product that, compared with other more traditional wall coverings (marble, granite, wood, slate, stone,) stands out above all for its versatility and suitability for use in all manner of environmental conditions.
Topcer – from Portugal Topcer offers a range of Porcelain tiles, where unique sizes, shapes, textures and finishing pieces allow their never ending use in all sorts of wall and floor areas, especially the very demanding ones where requirements have very high standards such as: high-breaking strength, resistance to wear, non-slip properties, acid and frost resistance.

EPD Accredited Supplier
The history of VitrA can be traced back to 1909 and the establishment of the Eczacibaşi group of companies, of which VitrA is a part. Turkish in origin, VitrA is now a major global player in the manufacture of both tiles and sanitaryware. Many things have changed since the outset in 1909, but VitrA draws on its proud heritage to create contemporary bathrooms and tiles with timeless appeal and accessible luxury. VitrA recently celebrated its 25th year of successful trading with CTD Group.
EPD Accredited Supplier
Viva is a brand of Emilgroup, a leading company with more than 50 years of excellence in the ceramic industry. Viva draws inspiration from various types of materials - woods, concretes, stones, clays and papers - to and expresses creativity and sophistication with Italian manufacturing excellence. Viva is an award-winning Italian tile manufacturer with innovation at the heart of our product portfolio we, therefore, consider the CTD Architectural Team is an ideal promotional partner for our product portfolio in the UK specification market.
EPD Accredited Supplier
Vives is one of the largest Spanish manufacturers, in operation for more than 50 years. Vives is a company able of offer ceramic products for floor, wall, porcelain and special pieces for all commercial environments. Vives invests heavily in R&D to allow us to offer the highest quality products with a contemporary design. In partnership with CTDA we are able to meet the architectural design requirements and to create elegant, avant-garde and exclusive settings.
ZYX is a rapidly emerging Spanish brand with clear ambitions to become an inspirational force where architects and interior designers from all over the world can find aesthetic and constructive solutions. Through unique ideas ZYX works with a three-dimensional representation of the space to create products for the interior designer. ZYX is a brand that values the more adventurous products. Objects and materials dedicated to improving environments and notable for their strong decorative properties. Their efforts are concentrated on creating timeless, functional and expressive tile collections that will amaze and inspire.