The Velvet Coaster - Public House
CTD Architectural Tiles were delighted to have been invited to support Manchester based architects Harrison Ince with their stunning redesign of one of Blackpool's most treasured buildings at the heart of the Golden Mile.
The Velvet Coaster has been turned into a flagship pub and restaurant offering respite and comfort to both locals and visitors to the town alike.
Harrison Ince chose to work with CTD Architectural Tiles because of our ability to provide on trend and practical tiles suitable for large projects like The Velvet Coaster. With such an iconic project it was imperative for us to provide the best possible tile for each area.
Rich in history and standing an imposing 3 floors high, the £3.9million superpub takes its name from a well-known roller coaster at the nearby Pleasure Beach.
Read more about our pub tiles here and our restaurant tiles here
CTD Architectural Tiles very own John Lannin commented:
"What a great project to be involved in! Client, contractor and designer really raised the bar on this one."

The bar walk area features the CTD Architectural Tiles Corona range of technical porcelain which has an anti-slip rating of (R10/+36 PTV wet) - both practical and aesthetical qualities which complement the wood wave ceilings and stone fronted bar perfectly.

"To be involved in the transformation of such an iconic building which has been changed into a fantastic environment was a privilege. It was the attention to detail and the designers awareness to their surroundings which have made this project an exciting and enjoyable one to be part of."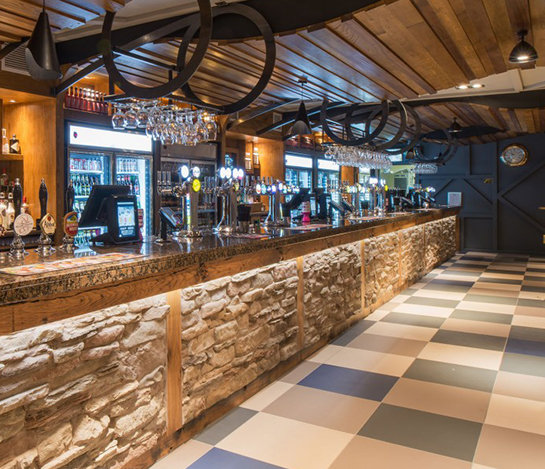 Strong design features transcend throughout the building and into the washrooms which have been tiled in our stunning Dreamlike and Streamline tile ranges.
Contact Us

If you would like samples of any of the tiles used throughout the Velvet Coaster project or would like to discuss an up and coming project please do not hesitate to contact a CTD Architectural Tiles Specification Manager
Telephone: 0800 021 4835
Email: info@ctdarchitecturaltiles.co.uk.