Holiday Inn Express Grimsby
Here at CTD Architectural Tiles, we pride ourselves on our ability to provide quality tiles to fit our client's briefs perfectly. One of the increasingly common requests from clients is the need for well-designed spaces that comply with strict technical requirements. This marriage is always at the forefront of our minds when considering products suitable for Special Needs environments.
Last year marked the twentieth anniversary of the introduction of the Disability Discrimination Act (DDA) where this legislation requires specifiers to provide solutions for walk-in showers in the design so that people living with disabilities are comfortable and safe.
Taking all aspects and client requirements on board, CTD Architectural Tiles recently supplied the Holiday Inn Express Grimsby with 300x100 CTD Scala Matt White, 300x100 CTD Scala Mid Grey, 300x100 CTD Scala Dark Grey for all bathroom walls and 100x100 CTD Lisbon Black for all bathroom floors.
The key to this scheme, were issues of appropriate slip resistance on the floors and suitable light reflectance value contrasts between the walls and the floors.
You can read more about all our hotel tile projects here.
Our Lisbon range is a plain colour technical porcelain tile, with a +36 wet Pendulum Test Value, providing a natural finish which proved to be the perfect floor tile for our client.
The black colour was selected as it offered both an attractive design complement but also the required 40 points of light reflectance value differentiation between wall and floor.
Lisbon is available in 6 sizes, 30 colours and plain, riven, diamond stud, square stud or round stud finish.
Specification Manager John Lannin commented "We have enjoyed a long history with the Holiday Inn Express brand and I believe our ability of meet the design aspirations of the client whilst developing their confidence in us to deliver product which has the right technical properties and be their tile experts has gone a long way to underpin this relationship.
As the needs of the users of the space change over time, our challenge is to stay ahead of the curve in respect of understanding legislation and product developments and make sure we retain their confidence in us for the future"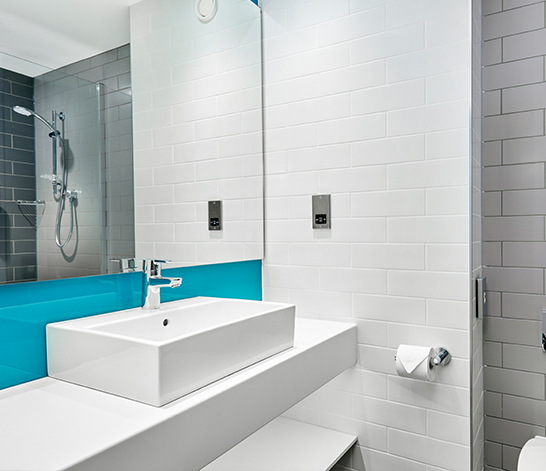 ---
If you would like to learn more about tile specification for special needs environments or if you would like to discuss an up and coming project please do not hesitate to contact a CTD Architectural Specification Manager.
Telephone: 0800 021 4835